TV Shows I'm Currently Watching and Obsessed
If you know me, then you know my love for binge-watching. Kalau mau dirunut dari awal, saya udah suka nonton marathon sejak zaman awal masuk kuliah, saat serial TV 'Glee' (2009-2015) lagi populer.
So far, sudah ada lebih dari 10 judul serial TV yang saya tonton dan ikuti. Gara-gara kecintaan saya pada serial TV, saya pernah sampai nggak selera menonton film, lantaran durasi menontonnya lebih singkat dan alur plotnya yang dirasa seperti terlalu ngebut. Mungkin karena kebanyakan nonton serial TV dengan plot yang panjang. Hobi binge-watching ini bahkan sempat membuat saya untuk memilih serial TV sebagai bahan kajian untuk skripsi semasa kuliah.
Dulu sewaktu masih jadi jurnalis, saya sempat meninggalkan hobi saya itu—boro-boro nonton, bisa rehat dan pulang tepat waktu aja jarang. Sekarang, binge-watching menjadi kegiatan favorit saya di sela rehat dari pekerjaan freelance. Nah, selagi list tontonan saya masih belum begitu banyak, here I give you a sneak peek on my current favorite TV shows yang sedang saya ikuti dan obsessed…
Dari antara semua serial yang saya sebut di sini, 'Madam Secretary'-lah yang lagi seru-serunya saya ikutin! Sesuai judulnya, serial ini bercerita tentang kehidupan seorang Menteri Luar Negeri AS. Sebagai pecinta serial drama politik, saya suka sama banyak hal di serial ini. Mulai dari plotnya yang nggak kekanakan dan mengada-ada, sampai potret keluarga harmonis yang jarang ditampilkan di layar-layar Hollywood. Sebelumnya saya mengikuti serial drama politik 'Scandal' (2012-2018) yang seru juga, but so far 'Madam Secretary' is my favorite.
(Image credit: imdb.com)
To be honest, saya nonton ini karena (1) penasaran sama act-nya Melissa Benoist di luar 'Glee', sama (2) pingin lihat si ganteng Chris Wood setelah naksir abis sama dia di 'The Vampire Diaries' (2009-2017). Setelah marathon dari season 1, menurut saya 'Supergirl' ini lumayan. Tapi plotnya terlalu kekanakan dan saya seringkali dikecewakan karena nggak sesuai ekspektasi. Saya berakhir lanjut nonton karena pingin lihat Chris alias Mon-El aja (while shipping him and Kara Zor-El). Lately yang membuat saya obsessed adalah kelanjutan romansa pasangan Kara dan Mon-El.
(Image credit: Jumped-excelled.gq)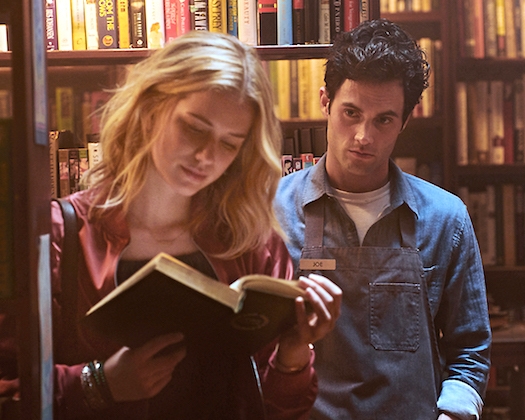 This show is my latest find. Tayangan perdananya baru tahun ini dan terakhir kali saya tonton, baru keluar satu episode. Tapi saya udah penasaran aja sama kelanjutan ceritanya. 'You' menceritakan tentang seorang stalker yang naksir sama seseorang dan apparently would do anything to get close to his crush—termasuk 'memusnahkan' siapapun yang menghalanginya. Agak creepy, sih, tapi seru banget. Would really make a great thriller.
(Image credit: tvline.com)
The Big Bang Theory (2007)
Sebenarnya saya udah ngikutin sitkom ini dari tahun lalu, tapi nontonnya nggak urut. Jadi awalnya sempat merasa kalau 'The Big Bang Theory' itu agak garing, a.k.a. kurang lucu. Baru beberapa bulan terakhir saya mencoba untuk menonton dari season awal. Turns out very entertaining! Saking niatnya marathon, sekarang saya udah sampai season 9. Tokoh favorit saya Rajesh Koothrapali, simply karena dia ngegemesin dan look cute (hehe). Dari geng cewek, saya suka Penny.
(Image credit: Bloomberg)
Any other TV recommendations? I'm open for anything, please surprise me!
Ruth Vania Christine
Sign-up to my bi-weekly newsletter (coming soon!) here, or follow me via Bloglovin here. Get your free 2019 printable calendar here!